Posted by
Mohd Abuzer Saleem
on 31st Jul 2023
Best Trail Running Shoes for Men in 2023
Welcome to our comprehensive guide on the Best Trail Running Shoes for Men! Whether you're an experienced trail enthusiast or a beginner looking to explore the great outdoors, having the right pair of trail running shoes is essential for a smooth and enjoyable experience.
In this blog, we've carefully curated a selection of top-notch trail running shoes that combine cutting-edge technology, comfort, and durability to help you conquer any terrain with confidence. Get ready to elevate your trail running game and discover the perfect companion for your adventures ahead!

When it comes to trail running, the experience is completely different from normal road running. Trails are no easy walk in the park. When tackling them, you'll encounter different types of terrains, such as puddles of mud, rocky paths, and trippy tree roots. For these terrains, normal running shoes are of little use. Trail shoes are specially designed for trail runners, who love to run on challenging terrains.
So lets look at the best Men's trail running shoes in Australia 2023
How to Choose The Best Trail Running Shoes for Men?
Trail running is for everyone, regardless of personal preferences or ideologies. The key to becoming a trail runner is finding the right pair of trail running shoes that complement your style. Before making a purchase, there are two crucial aspects to keep in mind: understanding the needs of your feet (consider stiffness, pliability, neutrality, stability, width, and heel-to-toe drop) and determining the type of shoes required by the terrain you'll be running on. Take into account whether the trails you'll encounter are technical or smooth, flat or steep, with loose or firm footing, and whether you might encounter water crossings.
For technical trails with poor footing, rigid shoes with deep lugs (5mm+) are the optimal choice. However, it's essential to note that these shoes might feel less forgiving and even uncomfortable during road runs. They excel on rugged terrain and can also serve well for day hiking. On the other hand, hybrid shoes with shorter lugs (2mm to 4mm) offer a softer on-road feel compared to their sturdier counterparts. They are ideally suited for soft singletrack and local wooded trails, ensuring you won't have to slow down due to uncertain footing.
Best Men's Trail Running Shoes in 2023
In order to buy the best trail running shoes for men, you need to look out for features that suit you the best. Let us now take a look at some of the best trail running shoes for men in the market.
Altra Olympus 5 - Best Overall Trail Shoe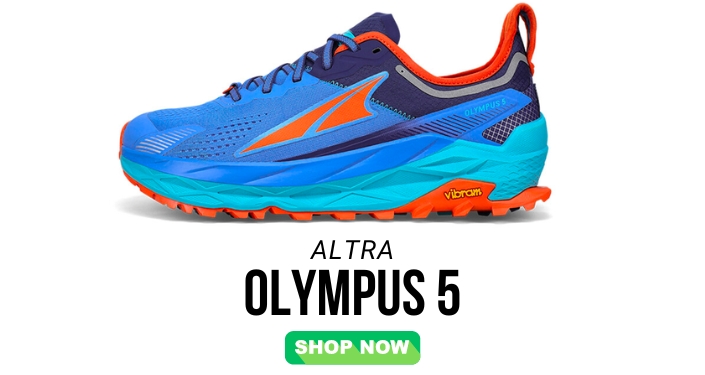 Following the popular Altra Olympus 4, known for its excellent cushioning, protection, and durability, the new Men's Altra Olympus 5 introduces increased stability with a redesigned upper. Moreover, its 33mm stack height positions it as one of the brand's highly cushioned shoes.
The Altra Olympus 5 for Men is a popular trail running shoe that features a comfortable and well-cushioned midsole, providing ample support and shock absorption for long-distance runs. The shoe's design included a zero-drop platform, which means the heel and forefoot were at the same distance from the ground, promoting a more natural foot strike and better alignment.
The outsole of the Altra Olympus 4 utilized Vibram MegaGrip technology, offering excellent traction and durability on various terrains, making it suitable for moderately technical trails. The upper was designed with breathability and a secure fit in mind, providing comfort during extended runs.
With its comfortable cushioning and protective design, the Altra Olympus 5 is one of the best trail running shoes for men and an excellent choice for endurance-focused long runs.
Altra Mont Blanc - Best Race Day Trail Shoe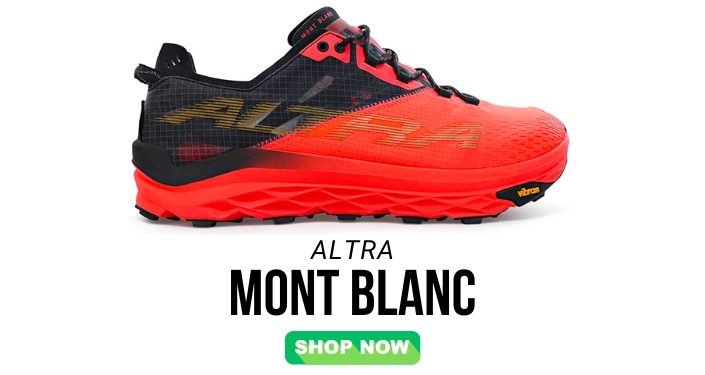 The Altra Mont Blanc trail running shoe has quickly gained widespread popularity and sold out due to its outstanding performance and premium features. Inspired by the UTMB race, the shoe's EGO™max midsole offers a luxurious, lightweight experience with excellent bounce and durability. Designed with Altra's trademark FootShape™ Fit, the shoe provides a roomy toe box and a balanced 30mm zero drop geometry, ensuring a secure and comfortable fit for wider feet.
The Mont Blanc's remarkable traction and grip are achieved through the innovative Vibram® Litebase rubber outsole, making it ideal for technical terrains and diverse surfaces. The shoe's unique tongue, lightly padded and made from thin stretchy nylon, contributes to its lightweight design while featuring the latitude and longitude of Mont Blanc—a charming touch that adds a personal element to the shoe.
Although praised for its overall precision and impressive design, a few aspects, such as the lace lock and heel collar, may require slight adjustments for individual preferences. Nevertheless, the Altra Mont Blanc continues to be one of the best trail running shoes for Men, ideal for trail runners seeking a high-performance shoe suitable for wider feet, technical trails, and long-distance runs. Its combination of superior technology and comfort has solidified its position as one of the best Men's trail running shoes in the market.
Altra Timp 4 - The Most Versatile Trail Shoe
The Altra Timp 4.0 is a highly impressive and versatile trail running shoe for men that excels across various surfaces and trail conditions. With its generous cushioning (29 mm stack) and responsive feel, it falls between Altra's Lone Peak and Olympus models, offering a comfortable and protective ride.
The shoe's performance is outstanding, providing excellent traction and confidence on wet and technical trails. The MaxTrac outsole and EGO max cushioning material ensure reliable protection against rocks and debris, while the reinforced toe cap adds an extra layer of security.
Durability is another strong suit of the Altra Timp 4.0, as it shows no signs of wear despite rigorous use. Despite being a highly cushioned shoe, it remains light enough for racing purposes, making it suitable for trail races of any distance.
The snug fit of the Timp 4.0, particularly in the mid-foot and toe box, may not suit all runners, but it still offers a comfortable and secure feel. The cushioned mesh upper allows the shoes to breathe well and provides a comfortable and supportive fit.
In conclusion, the Altra Timp 4.0 is also one of the best trail running shoes for men that offers a near-perfect balance of comfort, protection, and performance. It performs well on various surfaces, making it a top choice for trail runners seeking a reliable and versatile option for their running endeavours.
Topo Athletic Pursuit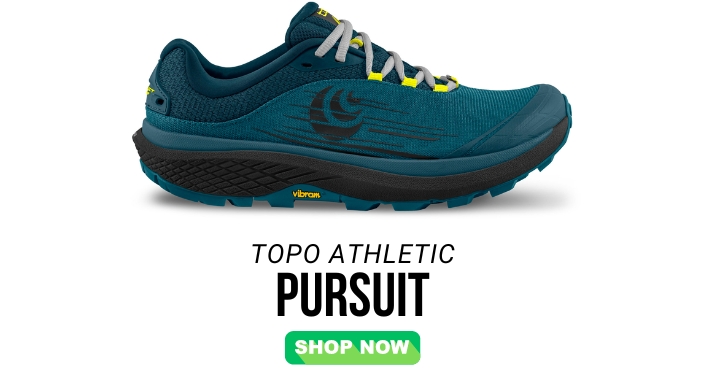 The Topo Pursuit enters the zero-drop ultra-cushioned trail shoe category, departing from their usual 3-5mm drop offerings. With a balanced 28/28mm stack and a wider forefoot than typical Topo Athletic shoes.
The standout feature of Topo Athletic Pursuit is the high 28mm zero-drop stack. The Pursuit uses Topo's Zipfoam midsole, known for its trail comfort and flexibility. Compared to previous Zipfoam iterations, the Pursuit feels less dense and more cushioned, making it suitable for long distances and technical terrain.
Equipped with Vibram Megagrip rubber, Topo Athletic Pursuit boasts exceptional grip on various terrains. The shoe's flexibility allows the Megagrip to excel over diverse surfaces, and the square lug pattern smooths the ride while maintaining grip. Although performance may vary in very loose terrain, the Pursuit's outsole remains effective in most conditions.
Topo Athletic Pursuit offers a comfortable trail running experience, which is well-cushioned, and surprisingly stable in technical terrain. The Zipfoam provides a dense and absorptive feel, offering terrain absorption and comfort but minimal bounce or energy return. The Pursuit's natural feel, aided by its higher stack and zero-drop orientation, sets it apart from Topo's other long-distance trail offerings.
Topo Athletic Pursuit's balance, flexibility, and grip give you confidence over uneven terrain. Although the forefoot width may be excessive for some, the Pursuit serves as an excellent option for natural running enthusiasts seeking cushioning and comfort, even appealing to Altra customers.
Apart from being of the best trail running shoes, the Topo Athletic Pursuit also proves to be an ideal hiking shoe with all-day comfort and adequate cushioning.
Altra Lone Peak 7 - Best Zero Drop Trail Shoe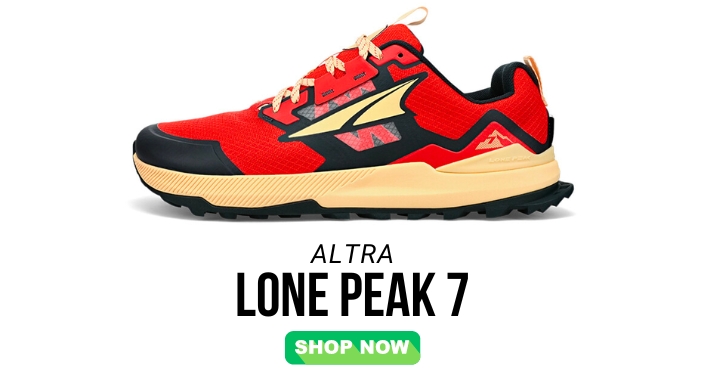 The Men's Altra Lone Peak 7 trail shoe strikes the perfect balance between familiarity and refinement, retaining all the beloved traditional features while undergoing subtle yet progressive improvements over the years. With a seamless and stitch-less upper, the Lone Peak 7 offers an enhanced lightweight and durable experience. Embracing the Original FootShape design, the shoe allows for natural foot movement during runs. Altra has also upgraded the MaxTrack outsole to deliver superior grip and responsiveness, complementing the reliable Altra Ego midsole.
Having garnered a massive cult following, the Altra Lone Peak 7 lives up to expectations with its signature "Classic" foot shape and width, zero drop midsole, and generous toe box, ensuring a comfortable fit for loyal enthusiasts. The new iteration has received positive responses from those who have been dedicated to this classic shoe, solidifying the ongoing success of the Altra Lone Peak series. The shoe's consistent performance is what truly resonates with its devoted users, making the Altra Lone Peak 7 trail shoe a standout choice for trail runners.
"The route I run most is a four-mile loop on a mountain that has every kind of surface that one can expect to get in Pennsylvania—gravel, technical downhills, rocky climbs, and water crossings" shared one tester who thoroughly put the shoe through its paces, covering more than 150 miles in both wet and dry conditions. He said "Altra Lone Peak 7 handles it all with ease. The traction it provides is exceptional, offering a fantastic grip, while the cushioning strikes the right balance between support and ground feel, ensuring a steady footing even on rocky surfaces."
It's essential to acknowledge that traction has never been an issue for the Lone Peak. The focus instead has been on achieving a secure fit. Altra has taken care to adjust the shoe's upper, ensuring that the roomy toe boxes accommodate natural foot movement and toe splay without feeling overly loose. Striking this balance is no easy feat and it makes it one of the best trail shoes for men in 2023.
Topo Ultraventure 3 - Best for Price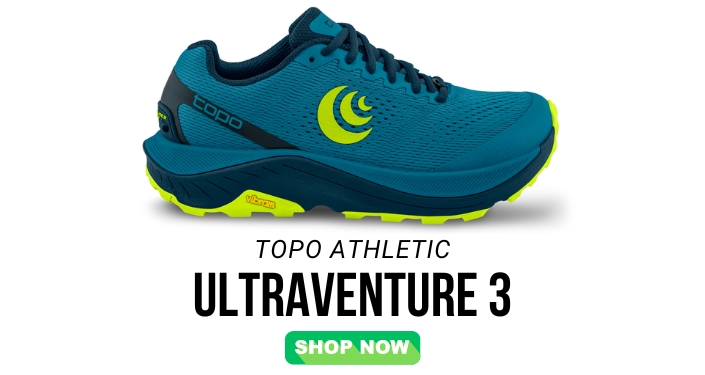 The Topo Ultraventure 3 is a reliable and well-cushioned trail shoe designed to offer protection for long-distance trail runs. It features notable updates, including an increased stack height, a lightweight ZipFoam compound in the midsole, and modifications to the Vibram outsole.
The addition of ZipFoam results in a lighter, softer, and more responsive underfoot experience, while the changes to the Vibram outsole make it lighter and more flexible without compromising durability. Topo Athletic UV3 caters to runners and hikers looking to conquer mild to moderate terrains such as light trails, fire roads, and packed single tracks.
Many trail runners have praised the Topo Ultraventure 3's upper for its secure fit, comfortable padding, and roomy toe box. The engineered mesh offers durability and breathability, enhancing the overall experience. The cushioning of the midsole is described as soft and protective, though it lacks liveliness and bounce. Nonetheless, it is an excellent option for those seeking comfortable cushioning for long days on the trails.
Comparing the Topo Ultraventure 3 to other models, it sits between Altra Timp 4 and HOKA Mafate Speed 4 in stack height. It provides better stability and protection than the Timp. The Ultraventure 3 is cost-effective compared to the other top trail running shoes for men.
Additionally, it stands out for its impact-dampening cushioning, making it a valuable alternative to high-stack trail running shoes like the Speedgoat 5 and Olympus 5. Overall, the Topo Ultraventure 3 is a dependable choice for adventurers seeking comfort and protection on a variety of trails.
Topo Mountain Racer 3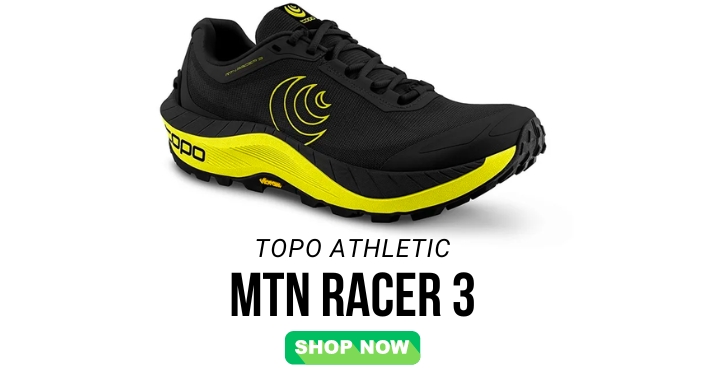 The Topo Athletic MTN Racer 3 is a trail shoe that has a passionate fan base. Many people love the brand for its lesser-known status compared to other popular brands. The shoe's design and performance outshine its competitors, making it a mystery why more people aren't wearing them.
The shoe's journey began with the original Topo Athletic MTN Racer, which impressed with its shape, fit, and quality. Subsequent models like the Ultraventure, Terraventure, and the all-new Pursuit have only strengthened the fan base. Now, the MTN Racer 3 comes with high expectations, given the success of its predecessors.
The new Topo MTN Racer 3 boasts a revamped midsole with a new ZipFoam formula, providing a comfortable and protective ride. The Vibram Megagrip outsole, shape, and mesh upper remain largely unchanged, catering to the preferences of loyal runners.
The shoe receives glowing reviews from fans who appreciate its simplicity and quality. The lightweight, breathable, and durable engineered mesh upper, combined with minimal overlays, strikes a perfect balance of structure and comfort. The wide, rounded toe box and stable platform make it comfortable for long runs and technical terrains.
However, some reviewers note a few downsides. They feel that the midfoot lacks adequate security and lockdown, reducing its suitability for true mountain racing. Some experienced stretching in the upper after long runs.
Overall, the Topo Athletic MTN Racer 3 impresses with its performance, comfort, and versatility. It caters to runners seeking a capable trail shoe for various distances and terrains. While not a perfect mountain racer, it still remains a top candidate for the best Men's trail running shoes in 2023.
Topo Terraventure 3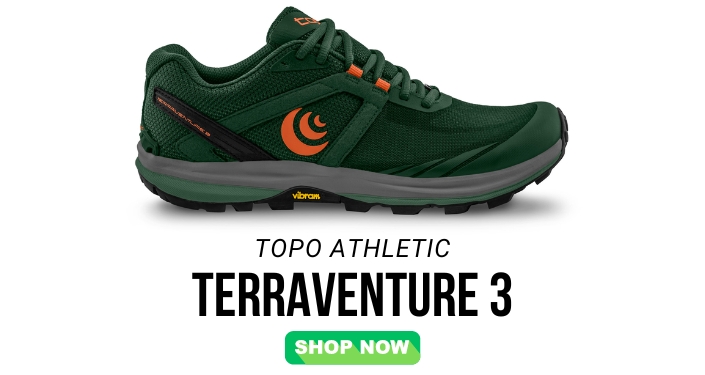 Compared to the previous models, the Terraventure 3 offers several improvements. It comes with a rock plate, a 3-millimeter drop, balanced cushioning, and neutral support. Despite its durable build, the shoe remains relatively lightweight, making it ideal for efficient and fast technical running. The Terraventure 3 has an advertised weight of 8.1 ounces in women's size 7 and 10.2 ounces in men's size 9.
The shoe's upper has been enhanced with a denser weave mesh at the forefoot, providing ample room in the toebox while keeping out dirt and dust. Additionally, the shoe features a unique gaiter attachment design, making it easy to use Topo's proprietary performance gaiters. The number of external overlays has been reduced, and welded inlays at the base of the forefoot and lacing system have been added, increasing water drainage and overall durability.
The midsole of the Terraventure 3 remains unchanged from the previous model, featuring a dual-density injected EVA midsole that provides a soft layer of foam with a firmer layer underneath for stability and comfort. The shoe also includes a flexible rock plate for extra protection during technical runs. The outsole has been upgraded to Vibram Megagrip, offering exceptional traction on various surfaces, and the well-spaced lugs facilitate mud and snow release.
Overall, the Topo Terraventure 3 is a well-rounded trail shoe, featuring upgrades that enhance its performance, durability, and breathability. Its foot-shaped design with a wide toebox ensures natural toe movement and efficiency. With the addition of the Vibram Megagrip outsole and flexible rock plate, the shoe provides a secure and aggressive feel, making it an excellent choice for longer and more technical trail runs.
Altra Outroad - Best Road-to-Trail Shoe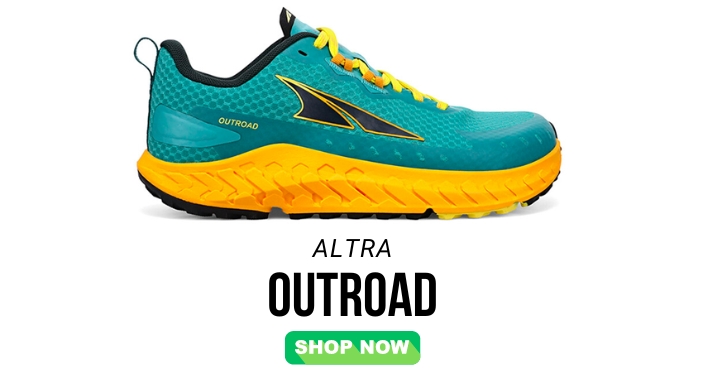 Altra has introduced a new hybrid road-to-trail running shoe called the Altra Outroad. The shoe is designed to be versatile, performing well on both roads and trails. The Outroad is based on the Altra Rivera 2 but features added durability measures and overlays, making it more suitable for adventurous terrains. The shoe uses Altra's Slim footshape, providing a slightly tapered toe box, and incorporates an internal bungee system for midfoot and heel security.
The Outroad's midsole is made of Ego foam, which offers a good balance of cushioning, flexibility, and density, providing a smooth and comfortable ride. The shoe's geometry helps it perform well on both roads and gentle trails. The upper is made of ripstop mesh, offering a blend of structure, comfort, and durability. The shoe's design is clean and stylish, with unique colorways and a geometric midsole detail.
However, there are some concerns with the Outroad. The sizing appears to be off, with the shoe running at least half a size too small. The MaxTrac outsole, while offering good grip on most surfaces, seems to wear quickly on road miles, potentially affecting its trail grip. The shoe's weight is slightly heavier than other Altra trail shoes, making it less ideal for racing or picking up the pace.
Overall, the Altra Outroad is well-suited for runners seeking a do-it-all shoe that can handle various terrains, including roads and light trails. Its comfort, versatility, and sleek design make it an attractive option, especially for travel, where one pair can serve multiple purposes. Transitioning to a zero-drop shoe should be done gradually, especially for those new to such footwear.
Topo Athletic MT-4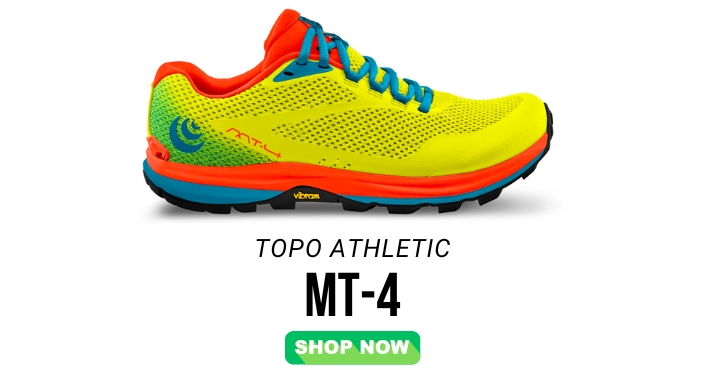 The Topo Athletic MT-4 is a versatile trail running shoe that offers a smooth transition for those interested in zero-drop shoes. With a 3mm drop and a dual-density midsole, it provides enough cushioning for protection against rocks and roots while maintaining a minimalist feel. The shoe has a roomy toe box and a lack of a rock plate, making it feel more minimal than its actual stack height of 23.5mm. The MT-4 offers a comfortable and even ride on both pavement and dirt, adding to its versatility and value.
Reasons to buy the Topo Athletic MT-4 include its minimalist feel, solid traction, and wide toe box, allowing toes to spread out and grip the ground naturally. However, there are some drawbacks, such as an uncomfortable lacing system and relatively heavier weight compared to other designs.
Overall, the Topo Athletic MT-4 has received acclaim in the industry and stands out as a versatile and well-performing trail running shoe, combining elements of minimalist footwear with the necessary protection for trail running. It provides a stable and natural-feeling platform for tackling various trail conditions.

Bottom Line
In this blog, we've explored some of the best trail running shoes for men in 2023, each offering unique features and benefits to enhance your trail running experience. Trail running shoes are specially designed to tackle challenging terrains, providing excellent traction, durability, and comfort.
The Altra Olympus 5 stands out as the best overall trail shoe, offering exceptional cushioning, stability, and durability. For race days and speed work, the Altra Mont Blanc impresses with its luxurious EGO™max midsole and outstanding traction. The Altra Timp 4.0 is a highly versatile option, excelling on various surfaces and trail conditions. The Topo Athletic Pursuit provides a comfortable, well-cushioned experience, suitable for long distances and technical terrains.
The Altra Lone Peak 7 maintains its cult following with its beloved foot shape and width, zero drop midsole, and generous toe box, making it a standout choice for trail runners seeking a secure fit. The Topo Ultraventure 3 offers reliable cushioning and protection for long-distance runs at a reasonable price point. The Topo Mountain Racer 3 impresses with its performance, comfort, and versatility, making it an excellent option for various distances and terrains. The Topo Terraventure 3 features upgrades that enhance its performance, durability, and breathability, making it a well-rounded trail running shoe. Lastly, the Altra Outroad is a versatile hybrid road-to-trail shoe, offering comfort and style for both roads and light trails.
What is the best trail running shoe for Men?
Choosing the best trail running shoe ultimately depends on your personal preferences, foot needs, and the type of terrain you'll encounter. With this comprehensive guide, you can confidently find the perfect companion for your trail running adventures ahead, elevating your performance and enjoyment on every run.