Posted by
Mohd Abuzer Saleem
on 1st Mar 2022
Best Trail Running Shoes for Men in 2022
When it comes to trail running, the experience is completely different from normal road running. Trails are no easy walk in the park. When tackling them, you'll encounter different types of terrains, such as puddles of mud, rocky paths, and trippy tree roots. For these terrains, normal running shoes are of little use. Trail shoes are specially designed for trail runners, who love to run on challenging terrains.

Men's trail running shoes are built to last longer on almost any kind of terrain. These shoes are loaded with features, which are not found in normal running shoes. In order to buy the best men's trail running shoes, you need to look out for features that suit you the best. Let us now take a look at some of the best trail running shoes for men in the market.
INOV8 TRAILFLY G270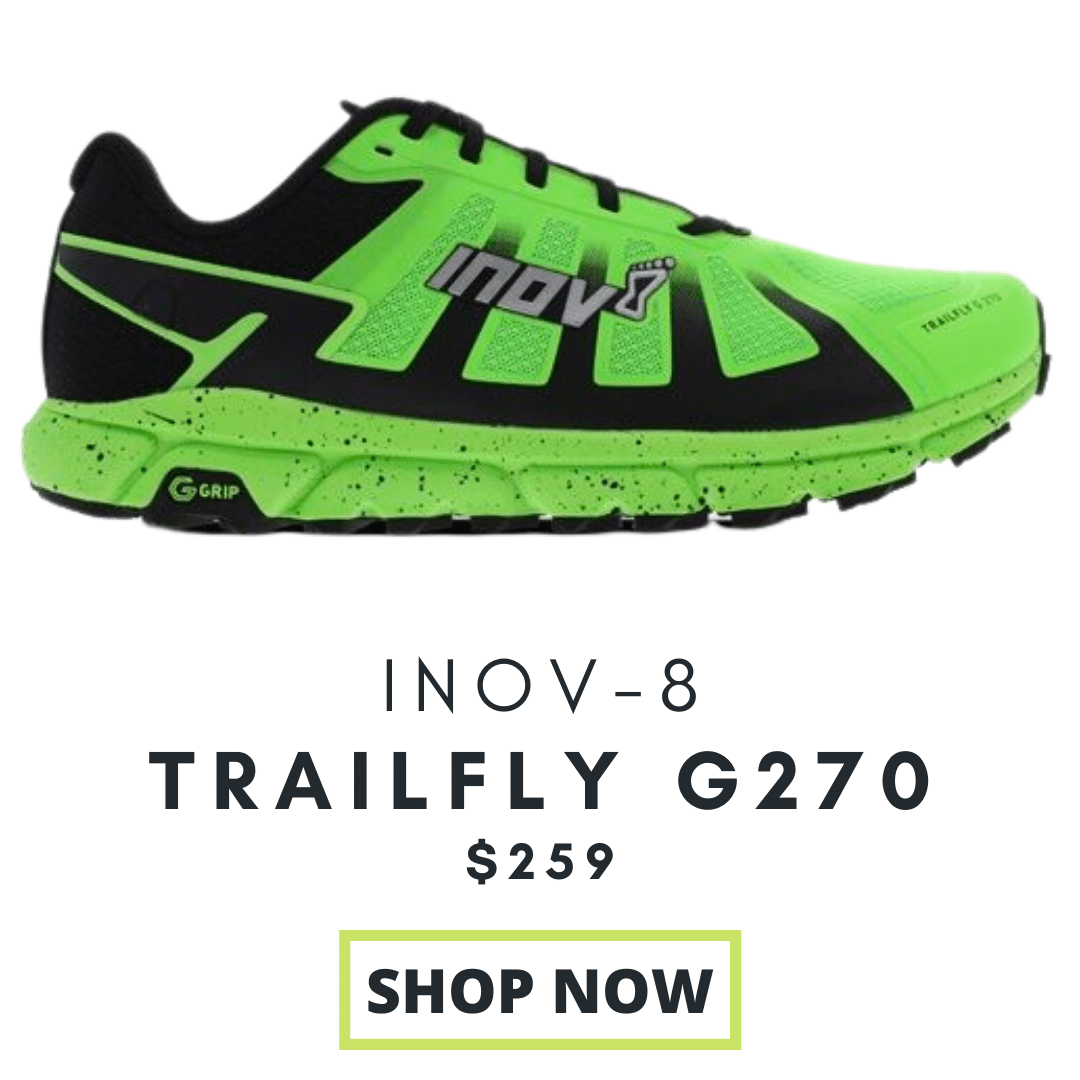 INOV8 TRAILFLY G 270 was previously called Terraultra G270 which was the Trail Running Shoe of the Year 2020 by Runner's World and three more publications, was taking the world of trail running by storm. The same award-winning men's trail running shoe was renamed INOV8 TRAILFLY G 270 during Spring 2022.
INOV8 TRAILFLY G 270 is the same trail shoe (previously Terraultra G270) that was used by Damian Hall when he settled incredible new record times for completing the 268-mile Pennine Way in 61hrs 35mins (Great Britain's toughest trail). He also used the same shoes to set another world record to complete 185-mile Wainwright's Coast to Coast in 39hrs 18mins.
The evolution of INOV8 INOV8 TRAILFLY G 270 has made several important and detailed improvements to deliver better grip, more cushioning, more bounce, and more comfort. This men's trail running shoe exactly the same yet upgraded version of the Terraultra G270 except for the new name, meaning INOV8 TRAILFLY G 270 retains all the incredible trail running and ultramarathon technologies that led this trail shoe to win four trail running shoes of the year awards.
INOV8 TRAILFLY G 270 features an improved use of the Graphene-Grip rubber that provides one of the world's toughest traction on trails. This trail Running Shoe also features Powerflow-Max plush cushioning foam for a more comfortable running experience with snappy bounce that delivers greater energy return for a longer time. The INOV8 TRAILFLY G 270 is one of the best trail running shoe in 2022 and probably the best shoe for tackling long distances at speed.
INOV8 TRAILFLY G 270 is the footwear of choice for many top trail runners and ultra runners. TRAILFLY G 270 for men is extra-durable and offers a comfort-enhanced upper and spring-loaded BOOMERANG footbed.
ALTRA LONE PEAK 6
Altra Lone Peak 6 men trail shoe is the second version of the iconic Altra lone peak 5 trail running shoe. It also features the iconic Altra EGO midsole foam. It has a heal-to-toe bed of ego foam. It has a very soft cushion which strikes the perfect balance between comfort and response. It is a very popular shoe among trail runners. Apart from the comfort, Altra lone Peak 6 also has an aggressive side. The shoe has maximum toughness to keep your feet protected at all times while you are running. It features grippy, multidirectional lugs to let you run without any worries on any kind of terrain.
It has a zero-drop feature, keeping your heel and forefoot at the same level. A quick-dry air-mesh keeps the trail shoes dry. You can run on wet terrains without having to worry about getting weighed down. A velcro attachment on the back heel of the Lone Peak 6 connects well with a gaiter, which helps to prevent any kind of debris or pebbles from getting stuck inside the shoe.
The Lone Peak 6 is a bit more flexible and about half an ounce lighter than the lone peak 5. Additional lacing across the mid-foot gives a more secure fit, and updated drain ports improve the flow of excess water. The same soft, springy midsole and grippy, durable outsole are there in the lone peak 6 too, which has made the model so popular over the past decade. All these features make the Altra Lone Peak 6 men trail shoe a great option for many trail runners around the world.
TOPO ATHLETIC MOUNTAIN RACER 2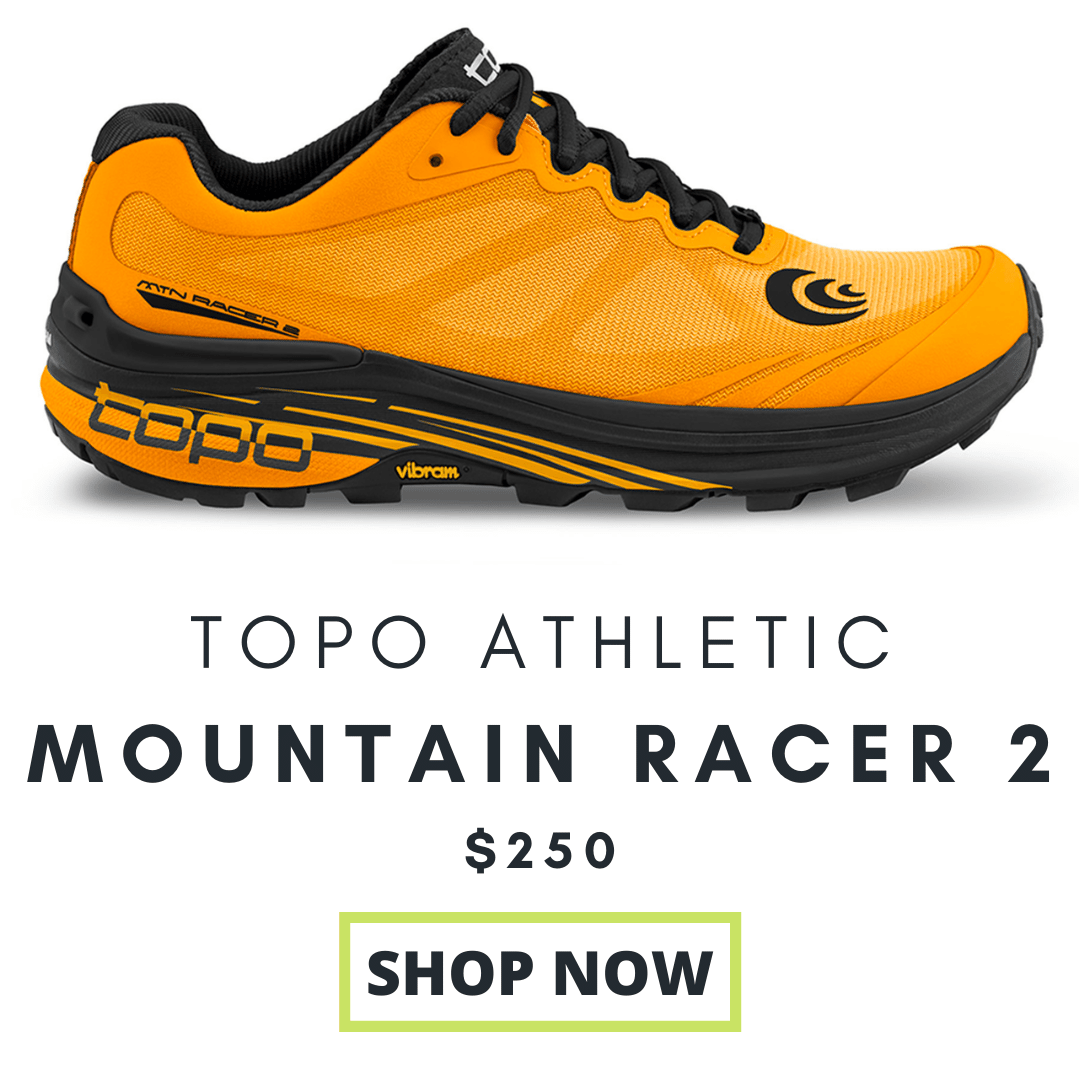 Topo athletic mountain racer trail running shoe for men is a kind of shoe that combines aggressive design, comfort, and sureness over any terrain. It has a foot-shaped toe box that is spacious and secure. It has a sleek design with an underfoot feel and is one of the best-looking men's trail shoes out there.
The new lightweight mesh upper provides a great fit and makes the shoe a lot more breathable. The Zip Foam three-piece midsole provides trail runners with comfort during strides, even on very rough terrains. The anatomical toe box on the MTN Racer 2 protects the toes from blisters. The Vibram MegaGrip outsole does not allow debris to stick and has a proper grip to last on almost any kind of terrain.
The 2-layer abrasion-resistant mesh is way more breathable, durable and comfortable than the previous Altra lone peak men's trail shoe. If you are someone who wants a mid-cushion, comfortable, grippy shoe for long mountain runs and races. then the Topo athletic mountain racer 2 is perfect for you. The shoe provides a balance of cushion, comfort, and stability to trail runners who run on very rough terrain.
ALTRA OLYMPUS 4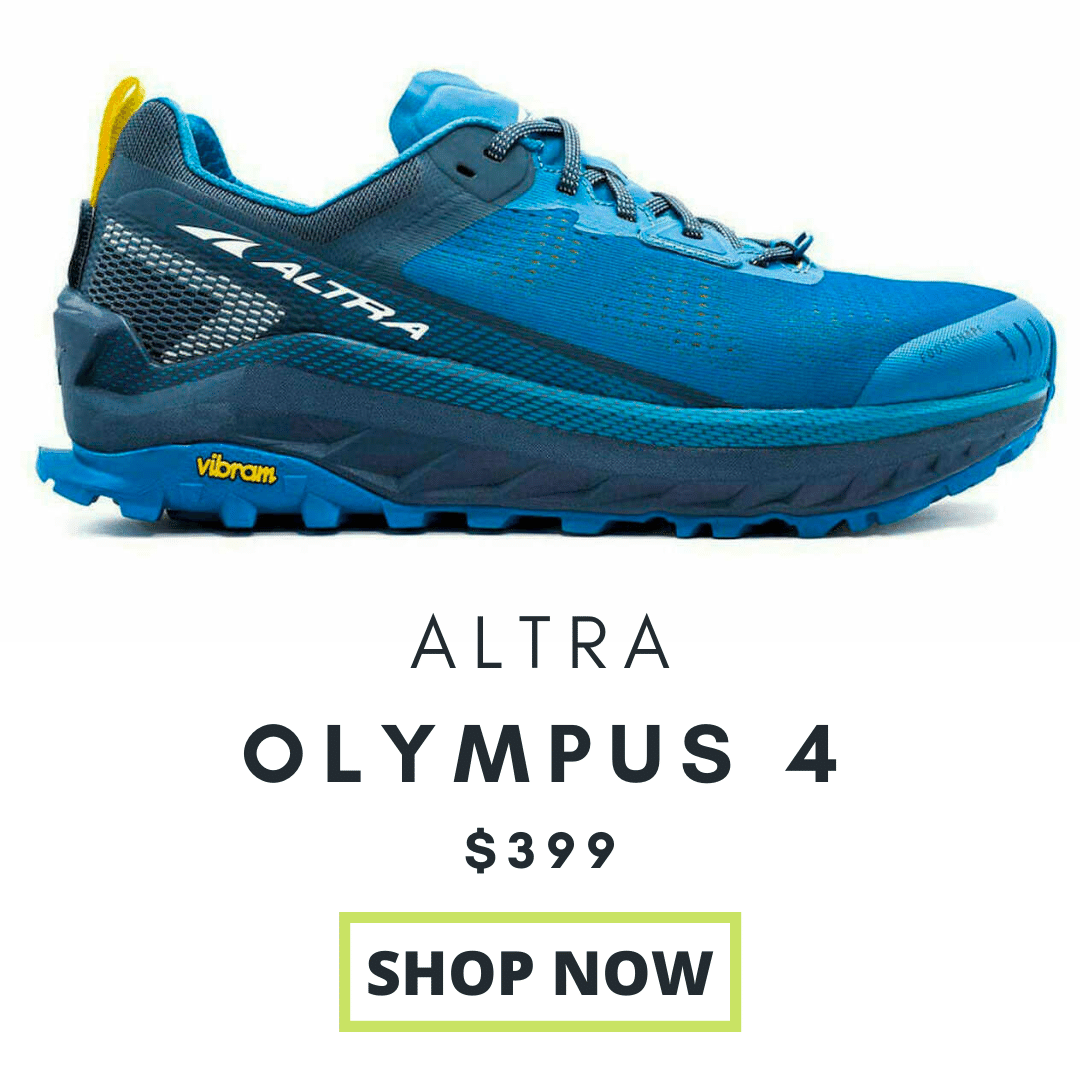 The Altra Olympus 4 men's trail running shoe comes with maximum cushioning and wide platforms, which makes it suitable for long runs. The shoe has a 33-meter high stack sole. There is no offset between the heels and toes making it a zero drop and wide platform shoe. The high stack cushioning gives a better shock absorption formulae to the shoe.
Altra Olympus 4 also has a gaiter attachment point to prevent pebbles or any kind of debris from getting stuck inside the shoe. The weight of the Altra Olympus 4 men's category is 318 gm/11.2 Oz, which makes it a little heavy for fast running. The shoe is specially designed for slow or moderate running. You can perform your daily runs and even workouts with the Altra Olympus 4. Altra Olympus 4 has a Vibram MegaGrip in the outsole. It is a naturally sticky rubber that provides an excellent grip on the shoe.
The midsole has an Abound cushioning technology which gives the shoe a better shock absorption rate and the cushioning also provides extra comfort to trail runners while they run. The Altra Olympus 4 trail shoe for men also has an Inner Flex technology to provide more flexibility to the sole of the shoe. The upper of the Altra Olympus 4 features an engineered mesh. The mesh provides a good airflow while running, making these trail shoes a lot more breathable.
TOPO ATHLETIC ULTRAVENTURE 2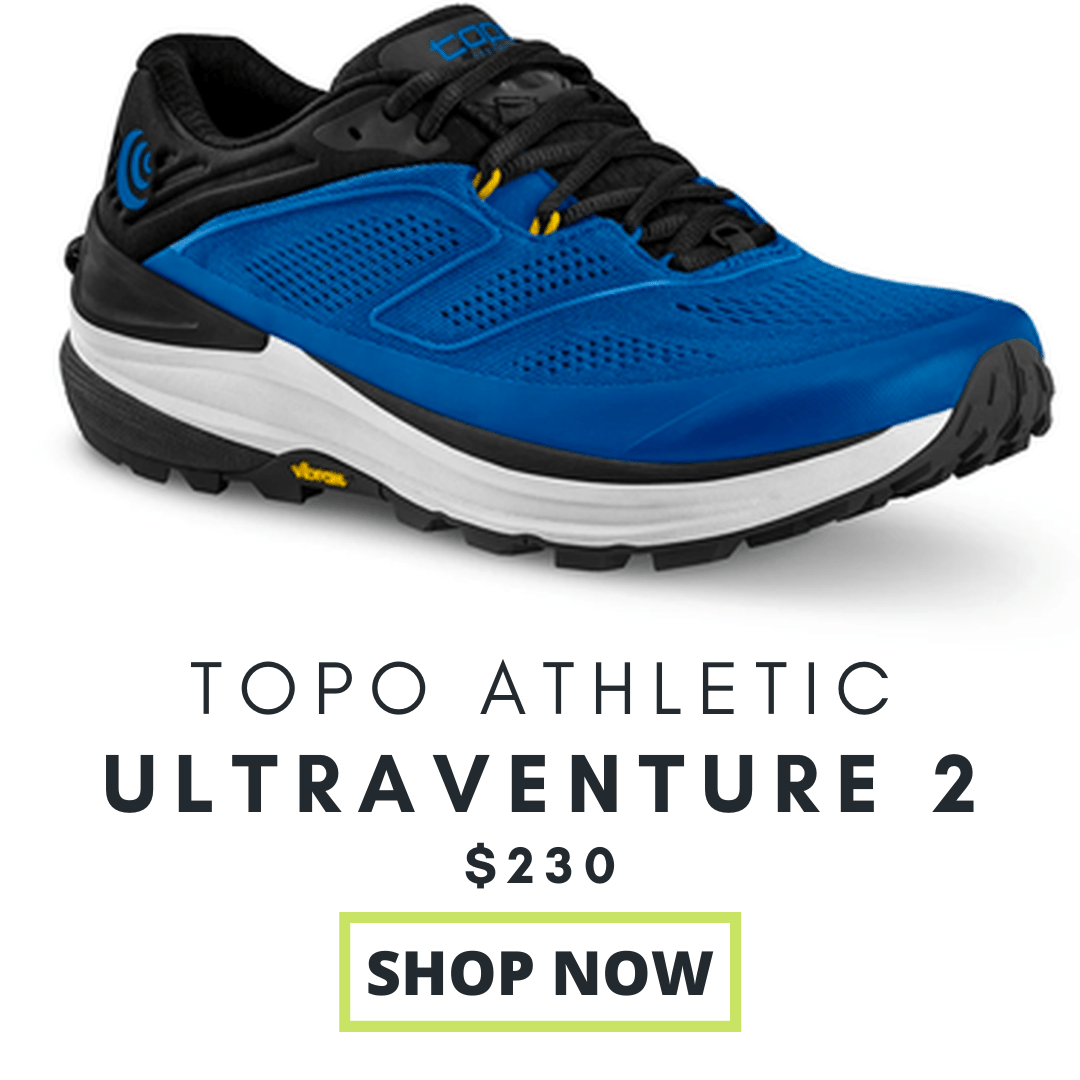 Topo Athletic Ultraventure 2 men's trail running shoe launched on October 1 is the most substantial trail shoe in the Topo lineup. The shoe has an incredible fit and is a lot more durable than the previous model. With the Topo Athletic Ultraventure 2, you can confidently run over any terrain. The same foot-shaped design, low drop, stack height, etc are there in the new design.
Probably the biggest differences between the new and the old models of these trail shoes are the mesh upper and three-piece injected-EVA midsole. The weight of the shoe is around 11.2 oz and the stack height is 30mm x 25mm. It has a 5mm heel-to-toe drop. The new Ultraventure trail shoe for men provides a little more cushioning to trail runners for those long days in the mountains.
The three-piece EVA midsole paired with an Ortholite insole is super comfortable. A soft abrasion-resistant mesh provides comfort and a locked-in fit. It also makes the shoe lighter and more breathable than the previous model. The midsole is neither too soft, nor very hard, providing just an adequate amount of balance in comfort. Another key feature is the XS Trek EVO outsole which is sticky, tacky, multi-directional lugs, that prevent debris from getting inside the trail shoe.
DYNAFIT ULTRA 100
The new Dynafit Ultra 100 men's trail running shoe is a robust shoe that comes with a traditionally comfortable option. The weight of the Dynafit Ultra 100 is at 330 grams/11.6 ounces for men and 290 grams/10.2 ounces for women. The shoe falls in the maximum cushion category and is built for maximum comfort for trail runners. You can easily perform very long trail runs with the help of the Dynafit Ultra 100.
Originally Dynafit has been making recreational outdoor gear in the skiing and mountain category. But with the launch of Dynalfit Ultra 100, they have shown some very positive signs in the trail running shoe category.
A fine, stretchy, durable mesh that comes with a sock liner makes the trail running shoe perfect for running. The roomier toe box gives you the much-needed comfort. Additional specs like the Invisible Lacing System and stout toe bumper give the Ultra 100 more trail cred. On top of the traditional lacing system, there is a single layer of mesh. It prevents debris and other unwanted particles from getting stuck inside the shoe as it can become an issue in the long run trails.
A 4mm Ortholite footbed provides a more medium/soft density to the shoe. Padding and overlays at the back half of the shoe provide extra comfort. The outsole is broad and has a lot of ground contact and with its multi-shaped and multidirectional lugs, is a secure combo. With the Dyna Fit Ultra 100, you can very easily run on any terrain. If you like to run on rocky or hilly terrains then this shoe is perfect for you. It will give you the much-needed comfort and will prepare you to take the risk of running on any unfamiliar terrain.