TRAIL RUNNING ESSENTIALS - A RUNNING GEAR GUIDE
To get the best out of your trail running experience, you need to have proper running gear. Trail running gear has an enormous impact on your running. Running equipment and accessories allows you to run risk-free as it minimises the risk of injuries and make your overall trail running experience more enjoyable. And for that, you need some essential trail running gear. Let us take a look at all the great options of trail running gear that you must carry on your trail runs.
In this ultimate trail running equipment checklist, we are going to share our list of trail running gears and essentials that includes our top-performing trail running shoes, clothing, and running accessories.
THE BEST TRAIL RUNNING GEARS IN 2022
Trail Running Shoes
Lets begin with the basics! A trail running shoe is the most essential trail running equipment. Running on rough terrains during trails, hiking, or climbing, you require proper running shoes that are specifically designed for trail running that can handle such terrains. You will need a shoe that have a solid gripping and comfort. Take a look at our collection of trail running shoes on our website and check out other essential trail running gear and accessories that you may need to improve your trail running experience.
Tribe&Trail offers a collection of some of the best trail running gear in Australia. You can choose from a variety of trail running shoes such as lightweight, mid-weight, base cushioning, and traction shoes. Make sure you choose the correct shoe cushioning based on the trail on which you want to run.
Altra Lone Peak 5 for Men and Altra Lone Peak 5 for Women is currently one of the best trail running shoes in the market. It comes with some great features like a spacious toe box, excellent traction, light-weight, comfort, built-in gaiter attachment, breathable, and rock plate to enhance protection and durability.
Another great option is the Altra Olympus 4 for Men and Women. It has a high stack sole and springy cushioning, making it a great option for your essential ultra running kit. The Topo Athletic mountain racer 2 and the Topo Athletic Runventure 3 for Women are also great options in trail run shoes.
Trail Running Headlamps
Trail runners may have to run early in the morning or late at night depending on the duration of the trail. You may also be among them who just like to run during the darker hours. In any case, you are going to require a high quality running headlamp which is an important essential in your trail running gears checklist. Getting the best running headlamps can help you in various situations and can be suitable for many outdoor activities including trail running, hiking, biking, or camping. Therefore it is important to add running headlamps in your trail running essentials.
Headlamps failures can be a massive problem especially when you are on the trail alone at night. Technical failures can occur due to dead batteries, malfunctions, insufficient lighting, or even a lack of charging alternatives. Therefore It is important to invest in the best running headlamps that should be highly durable, reliable, waterproof, and shockproof.
BioLite Headlamp 750 is the overall best running headlamp in the market. It also comes with two other variants 200 and 330. BioLite running headlamps is a top-performing headlamp that is easily rechargeable. It comes with various light modes that are suitable for every condition and consumes the battery more efficiently. The BioLite headlamp for running offers adjustable light mode which is suitable for trail running, biking, camping, and hiking. It also includes red light at the back of the head, which is a safety feature for road running and also a mandatory requirement for many ultra-marathon races.
The BioLite Headlamp 750 comes with a feature that activates a 30-second burst power output using the powerful 750 lumens. It has amazing long-lasting battery life. The built-in pass-through charging mode when connected to a portable battery charger to extends the battery life as long as you like.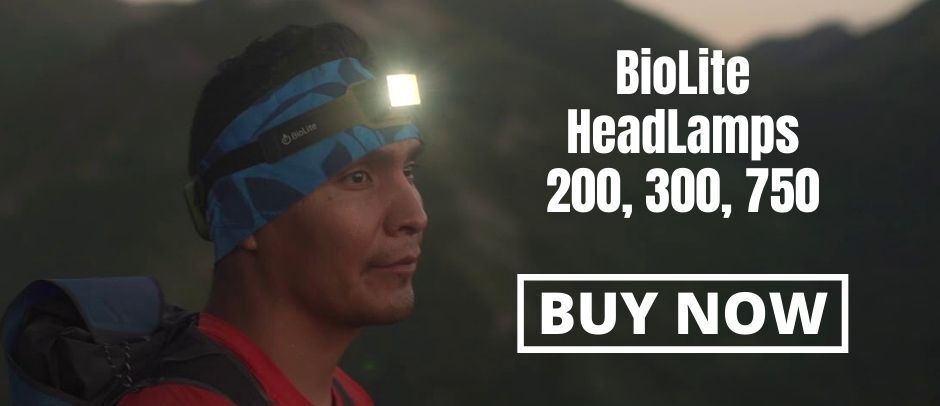 You can also invest some extra in the BioLite Solar Panel that allows you to charge your running headlamps wherever and whenever you want and it also works as a power bank. It also allows you to charge other portable devices such as smartwatches, mobile phones.
Hydration Packs
Running Hydration Pack is an essential trail running gear especially if you love longer trail runs or hiking. Hydration bag pack are strongly recommended to be an essential trail running equipment if you run or hike in remote areas. Hydration pack can carry water, food, and emergency supplies, that are necessary items for trail running. Hydration bags comes with form-fitting design, that helps keep the pack in place during the inherent bouncing that happens while you run.
Hydration packs and bags are specially designed to store the food and accessories efficiently, that can be accessed easily when needed. You can reach them without taking the whole pack off. The packs are lightweight and does not stress your shoulders during trail running.
We have selected the best hydration packs and bags based on performance and customers feedback. Ultimate Direction Ultra Vesta 5.0 is out top selling hydration bag that can be a great addiyion to you essential trail running gear kit. Ultra Vest 5.0 hydration pack is super lightweight and is perfectly suitable for longer trails in remote areas.
Camelbak Octane 10 is another great option for running hydration packs especially when it comes to water storage. It can load upto 2 litre water bladder. Octane 10 is made from breathable knit material that helps to prevent over-heating and the special "winged back panel" design in the vest reduces movement while running.
GPS Running Smartwatch
GPS running smartwatch has become an essential trail running gear over the past few years. Today, there are plenty of great smartwatches available on the market for you to choose from. The best running smartwatch would not only allow you to enhance your performance over time but also looks and feels great on your wrists.
Top running watches comes with range of important features such as GPS, heart rate sensors, journey tracker, speedometer, and time at a glance. GPS smartwatch for running helps you monitors and analyse your training sessions on a daily, weekly, and monthly basis, thus improving your overall performance. Performance analysis helps you to improve your performance precisely and enhance your overall trail running experience.
Coros APEX Multisport 42mm GPS Smartwatch is a built-in premium watch with extra-durable battery life, GPS navigation, and tracking features. Coros APEX PRO Multisports Smartwatch also has its own Intelligent Stride Algorithm, which helps you to build your own stride by recording your running motions. It comes with titanium alloy, sapphire glass, 100-meter waterproof rating and stunning battery life.
Apex smartwatches has all the activity-tracking sensors and good battery life. Another great feature of a Coros Apex smartwatch is that it also supports other sports such as hiking, rafting and because the watch is water-resistant. Checkout our collection of GPS Running Smartwatches that is perfectly suited for you.
Running Jacket
Rain jackets for running is essential trail running gear if you run in wet weather conditions. Don't forget or ignore investing in Running Jacket if your upcoming trails, hiking trips, or the region where you generally run, observes rainy weather. It is equally important to know whether your rain jacket for trail running is fully waterproof or not.
Your trail running jacket may say that they're water-resistant, which means that your running jacket is probably windproof and can handle a decent amount of rain or splashes. But during harsh weather conditions and heavy rain, your water-resistant running jackets will start to soak some water and you may end up thoroughly wet, which can harm you during your trail running and hiking trips.
Therefore it is important that you invest in the best running jackets that should be 100% waterproof, durable, lightweight, breathable, and a good fit so that the running jacket stays comfortable during trail running.
Uglow Sports offers a range of running jackets for men and women that are ultra-lightweight allowing you to stay comfortable and fast without any restrictions. The material quality is excellent and highly durable which keeps your body warm and dry with a classy finish. Uglow Rain Jackets are specially designed for high-intensity training, trail running, hiking, and camping.
Running Caps, Hats, and Visors
Running Caps, Hats, and Visors protect your head and face from getting burned by the scorching hot sun. Therefore, Running hats, caps, and visors are important items on your running gear checklist.
Running Caps protects your hair and are generally more breathable as compared to regular baseball caps. You may also invest in a good technical running cap that will protect you from various elements that can harm your head and hair such as dust, sun, and rain.
The FRACTEL™ Legionnaire Cap is the first of its kind and has been designed for those all-day adventures or when you're seeking some extra shade in style. This Legionnaire Cap takes it up a notch with UPF+50 panels all over and laser-cut ventilation for extra breathability.
Running Underwear
Running Underwear has a direct impact on your running performance. It is really impossible to run without running underwear and we don't have to explain to you why! Before investing in underwear make sure that the material used for the running underwear is made of a breathable fabric, and should be super light, soft, and comfortable. At the same time, they should be durable enough to handle extreme stretching and sweats.
At Tribe&Trail we have made available an impressive collection of Men's Running Underwear and Women's Running Underwear. We have build a collection based on various factors like quality, price and different cuts. You can choose men running underwear and women running underwear from different brands. The price range has been kept flexible, so you can shop according to your budget.
Trail Running Supplement and Nutritions
Just like any other physical exercise, train running can put a lot of pressure and strain on your body. During intense running sessions, you need proper nutrition to constantly refuel your body. This is why trail running supplements can be essential trail running gear that must be added to your running gear checklist.
Trail runners require a proper basic diet that is needed to maintain overall body fitness. Whereas, trail running supplements are required to support your body and improve your performance during single running sessions. Running nutrition and supplements provide you the instant boost to complete a trail run successfully and help you recover quickly and efficiently.
In order to improve your performance, you need the best and the healthiest trail running supplements to achieve your goals and maximise your performance. You will need various trail running supplements for endurance and recovery supplements for runners that will help you optimise your trail running experience
During an intense run, the body loses a lot of important essentials such as electrolytes, creating an imbalance in the body that can disturb the body's functioning. Lack of electrolytes can often result in various imbalances and issues in the form of cramps, weakness, or fatigue. Electrolyte tablets like Trail Brew Electrolyte Endurance Drinks are an important trail running supplement that should be a part of every trail running checklist.

Electrolytes are the most important running supplements that trail runners need. Electrolytes are chemical ions such as Sodium, Magnesium, Potassium, Calcium, and more that improves your physical performance by efficiently using your muscles, keeping you hydrated, and regulating pH levels in your body.





Author

Mohammad Humaid

Humaid is an hardcore adventurer and his most favourite adventure partner is his dog KooKoo. Mo's favourite things includes motorbike rides, scuba diving (certified dive master), BBQ, nature photography, and blogging.

Mo is a digital nomad and digital marketing is his gig. Mo loves to travel and explore new places, cultures, food, learn languages, and and ever ready to grab a coffee 24/7. His holiday destination is Santorini, Greece. He is fluent in English, German, Hindi, Urdu, and learning Russian.